Marc-André is an engineer specialized in digital power systems and is one of our leaders in research and development. He's passionate about innovation and new technology and plays a key role in managing our five interconnected labs. He believes that collaboration is critical.
Above all: being bold
In life and at work, I'm passionate about innovation and new technologies. And that's a good thing, because my responsibilities at BBA are very much focused on these two areas. We should never reject new ideas out of hand, no matter how bold they may be, and, for me, it's worth doing more to show that they can sometimes work and even transform the way we do things. As an engineer specialized in digital power systems, I really appreciate the fact that BBA never shies away from providing us the support we need to complete our projects. When an idea is recognized as having strong potential, we're given the means to explore the possibilities. For someone like me, who thrives on technological innovation, it's incredibly satisfying.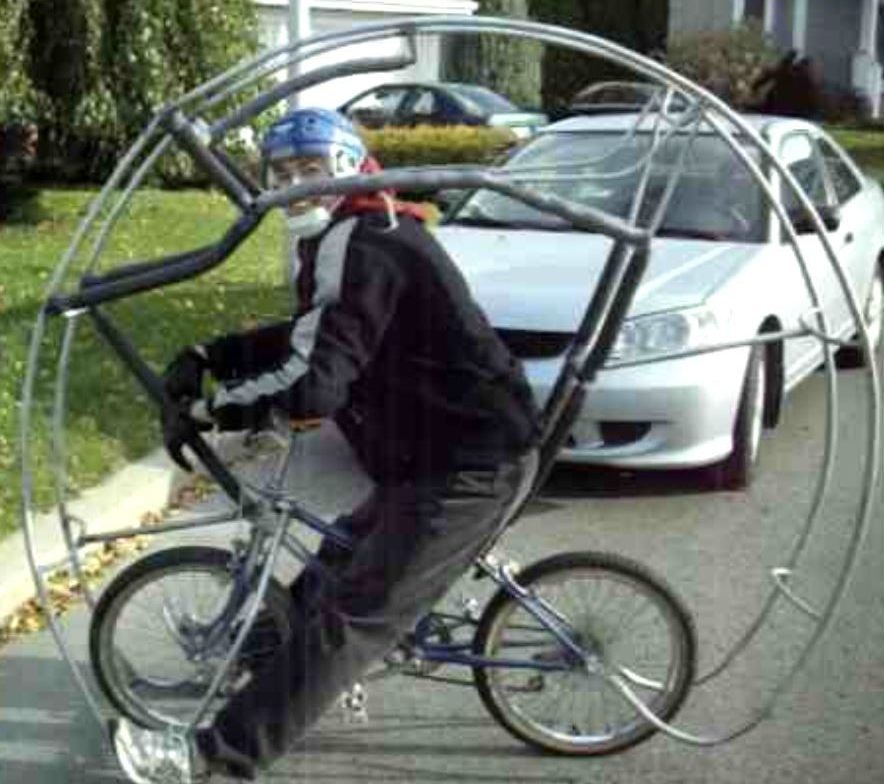 Getting involved and collaborating to achieve excellence
I grew up in Mont-Saint-Hilaire, so I was already familiar with BBA, which has its head office there. I was passionate about electronics and technology and was also a high-level athlete (yup, it can happen!). After visiting Montréal's École de technologie supérieure (ÉTS), which convinced me to go into electrical engineering, I decided to pursue my studies at Université de Sherbrooke, mainly because it allowed me to combine my interest in sports and studies. I joined the Vert & Or 4 X 400 metre relay team, who placed second at the Canadian Championships. BBA recruited me before I even finished my studies. There, I found values that were similar to those that helped us achieve our athletic successes, including the willingness to invest the necessary efforts and the importance of maintaining effective collaboration to achieve our goals. These are aspects that are essential for me when I'm involved in a project. Fun and collaboration are also part of BBA's DNA, and I think that's part of what drives us to push our limits.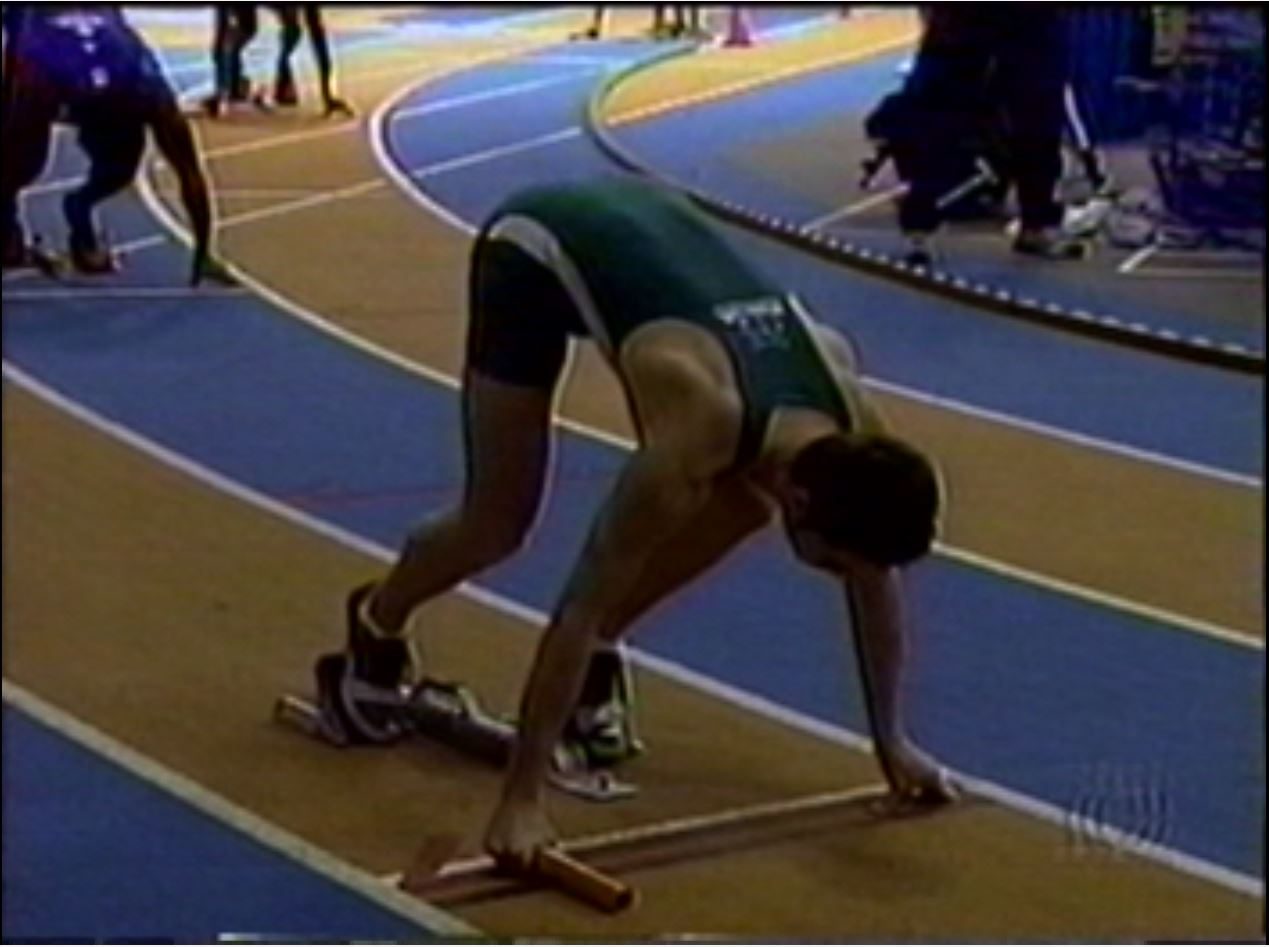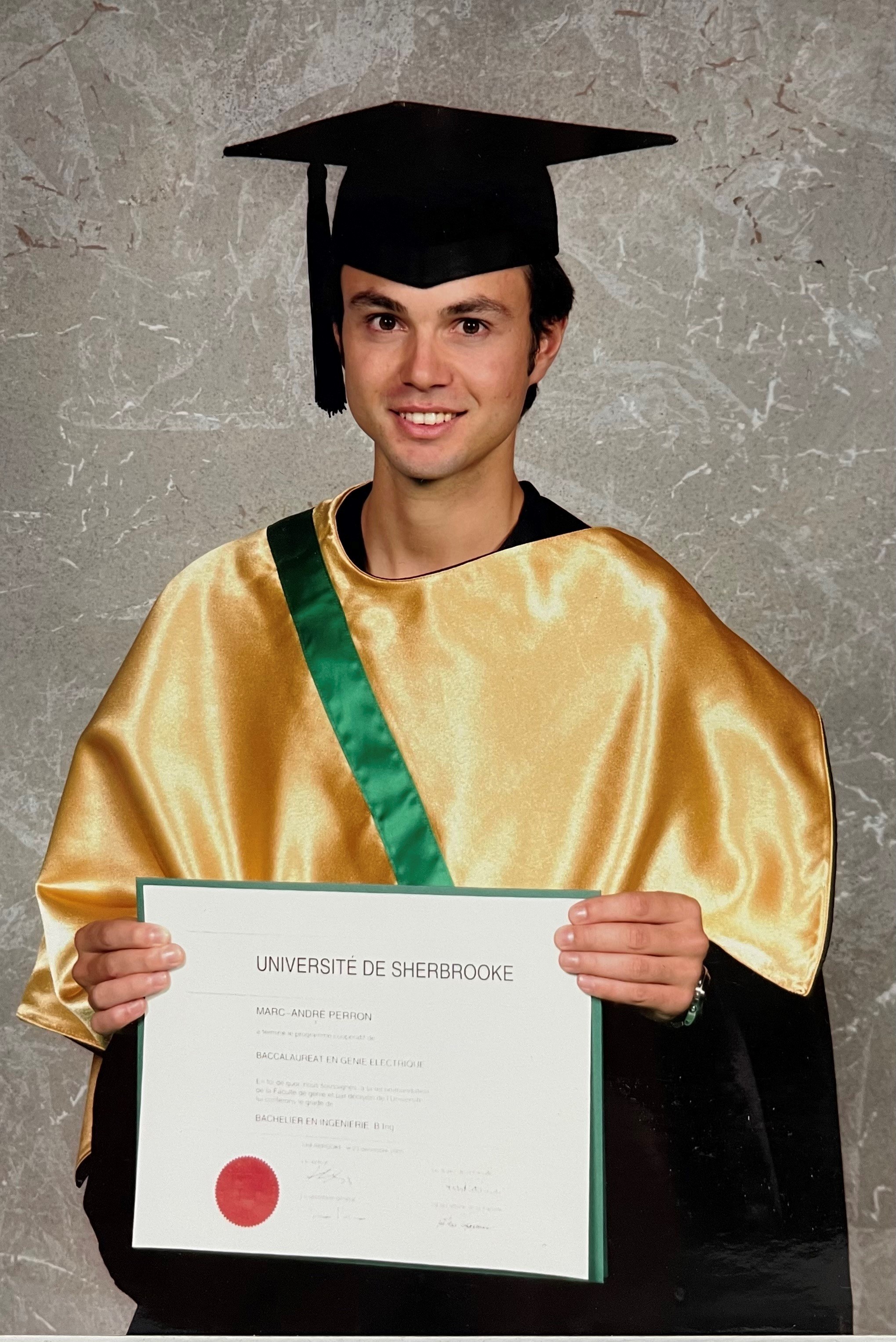 Challenges equal to my ambitions
I've been with the BBA team for 16 years now. When the time came to implement an innovation plan in 2015, they quickly recognized me as a natural fit to be involved in the project with two of my colleagues.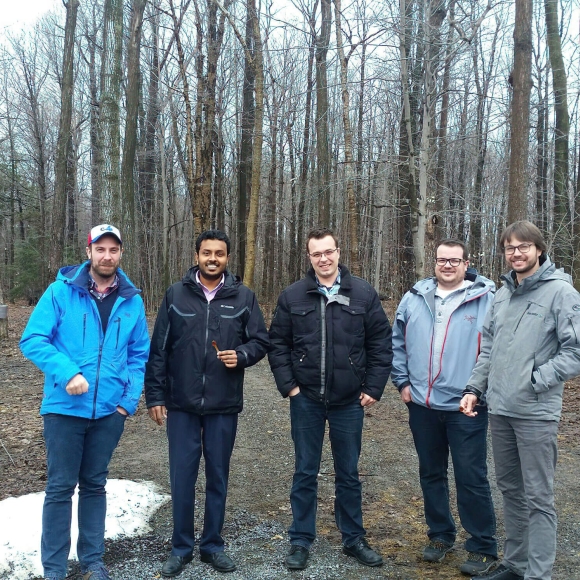 Executive management already knew I was interested in the latest technologies, including the fact that I believed it would be beneficial to the firm to develop our expertise around the IEC 61850 standard. This standard allows for greater interoperability of power system equipment and was already being used in Europe, but it wasn't yet widely used in North America.
Photo: Samith Pathigoda, Pierre-Yves Malenfant as well as the trio behind the innovation plan, Raphael Beaulieu, Keven Henry and Marc-André.
An idea turns into a business plan
Working on the innovation plan gave us the opportunity to prove the potential of this technological approach, especially for BBA's clients. Our team then worked closely to prepare a compelling presentation to the Executive Committee. We used every means at our disposal to persuade them to invest more in this promising technology. We even went so far as to print T-shirts with a series of icons representing the multidisciplinary expertise we bring to power systems. The BBA Executive Committee was convinced and gave us the support we needed to set up labs that mimicked power substation operations and were fully compliant with the IEC 61850 standard. Throughout this process, I was impressed by how open the firm was and how much latitude we were given to take our ideas to the next level.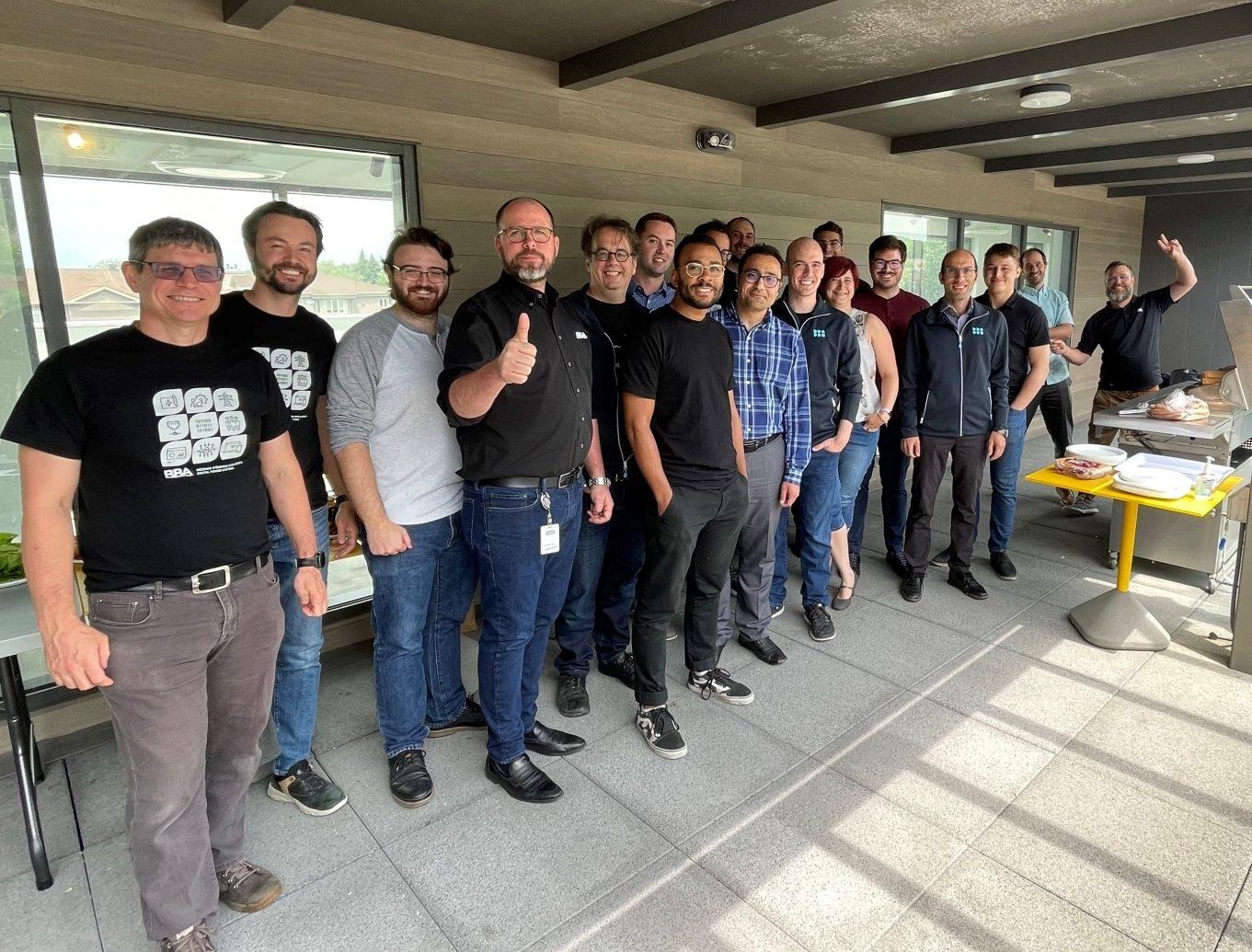 Photo: Marc-André and his colleagues, Giuseppe Giannuzzi, Maxime Sourceaux, Éric Labrie, Stéphan Picard, Keven Van Velzen, Karl Virgel, Christian Peloquin, Raphael Beaulieu, Amir Asgari, Mathieu Lagacé, Olivier Melançon, Geneviève Roux, Frédéric Inkel, Mohammad Almoazini, Vincent Boucher, Guillaume Beaudoin and Alexandre Morin.
Well-connected digital power systems labs
Today, we have five such labs across Canada, and this is a key part of our innovation strategy. By the time the pandemic hit, we'd already set up secure remote links across the labs to form a fully integrated network, complete with cloud-based monitoring and maintenance systems that anyone could access. This enables the various offices to work within the same ecosystem, with the same process, and to maximize the use of physical equipment that differs from one lab to the next. This is a highly advantageous approach, because we can test the entire system before deploying it on site. In fact, it's an excellent way to showcase BBA's wide range of technological solutions. We're able to demonstrate to our clients that we can incorporate these solutions into their projects efficiently and in a very short timeframe, thereby substantially reducing their costs, risks and environmental impact. Our technology was also essential in digitalizing a high-voltage electrical substation for the Société ferroviaire et portuaire de Pointe-Noire (SFP Pointe-Noire), which was a finalist at the Grands prix du génie-conseil québécois 2022 in the Telecommunications and New Technologies category.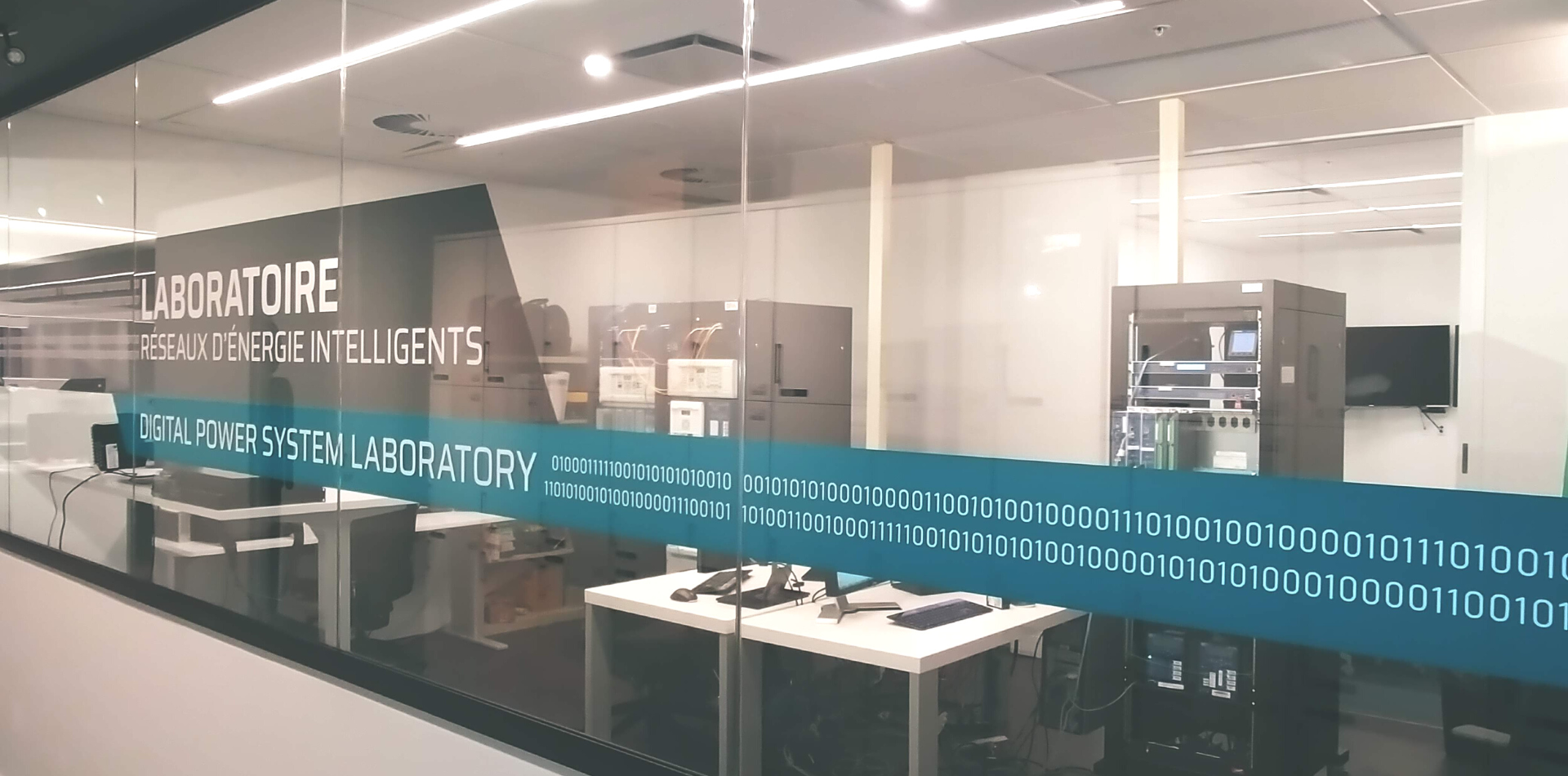 Innovation for the environment
At BBA, innovation is encouraged and valued because it's a crucial player in our decarbonization efforts. For example, with the digital power systems solutions we've developed, we can efficiently incorporate renewable energy, like wind, solar and storage, into our clients' infrastructures. This green energy is given priority and the data our systems collect are leveraged to make energy use more efficient, gradually reducing our dependence on fossil fuels. It's very rewarding to work for an organization that sees innovation as a way to accelerate our ecological transition and that actively participates in fighting the climate crisis.
The adventure is far from over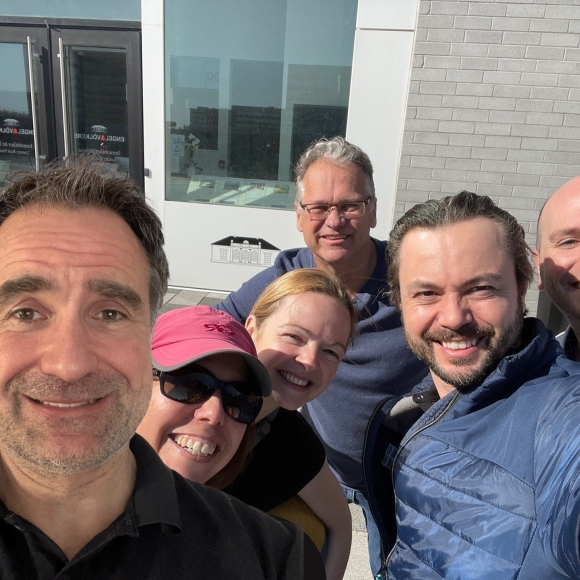 Given a work environment that's based on open-mindedness and pooling multidisciplinary expertise, I'm proud to say that we've been able to engage a talented team, nationwide, that's using and leveraging these digital power system labs. Our solutions will continue to evolve, and there are many opportunities for people to develop their talents.
Photo: Marc-André with his colleagues from other disciplines, Mathieu Riedl, Mélanie Chouinard, Christine Laprise, Yves Froment and Alexandre Paris.
To the new generation of engineers who'll soon be starting their professional careers, my advice is to believe in your ideas, to work at promoting them and, above all, to give them time to develop. As long as you persevere with concepts that have real potential, you'll progress as quickly as your ideas. Here at BBA, I can assure you that we still have great things to achieve.